Welcome to King Henry's Walk Garden.
We welcome all members and keyholders to the garden during daylight hours, and are open to the public each Saturday & Sunday between 12pm – 4pm.
With warmer days now upon us, it's a perfect  time to come on down to see the garden as it starts to bloom and enjoy the cool green of nature.
If you are visiting the garden, please remember to hydrate and be sun safe in this warm weather.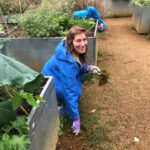 As the saying goes ' Many hands, make light work' so if you have an interest in gardening or communial support, remember to visit our What's on page to find out about volunteering opportunities at our workdays and upcoming events, you can also sign up to our mailing list using the sign up link at the top of this page.
It's a fabulous way to not only meet new people and spend time in nature but it also supports you community garden, which is all run by volunteers.
To find out more about becoming a member, please visit our Membership page.
You can also follow us on instagram, facebook and twitter, via the links to the left, to see daily photos ,workshops information and to learn about what's happening in the garden. If you have any queries please do get in touch – info@khwgarden.org.uk
We look forward to seeing you in the garden soon!
What's on