This once derelict site has been transformed by volunteers into a beautiful organic garden, providing an opportunity for local residents to grow their own vegetables and flowers, or just to come and relax in a peaceful oasis.
The garden, accessed via a specially commissioned gate designed by artist Heather Burrell, contains a large raised bed area, along the south-facing wall, which is split into small community plots for allocation to local people.
In addition, areas of communally-maintained planting around the lawn provide a space where members and visitors can sit and relax, and a low bridge across the pond gives children the chance to do some pond-dipping and observe the wildlife in the water at close hand.
The layout has been designed with accessibility in mind and, in addition, a number of large metal planters are particularly suitable for use by those in wheelchairs or who have difficulty bending down.

The site also includes a small area of woodland, Docwra's Wood, which is most unusual in this part of Islington. Work carried out in spring 2009 by volunteers, funded by the Forestry Commission, involved the removal of 17 dangerous or diseased trees, mainly sycamore and ash, and the planting of 37 new trees, including oak, rowan, silver birch, whitebeam and hornbeam, in order to improve the biodiversity of this area.
Three skiploads of rubbish were taken away, and much more was recycled as hardcore to make foundations for the path.
Docwra's Wood will be carefully managed as a protected area of wildlife habitat, and is now home to some bee hives. New trees planted in the garden and wood have been chosen because of their biodiversity value, and the communal planting as a whole has been designed to attract beneficial insects, as well as to create maximum visual impact.
We hope that the pond, designed to be wildlife-friendly, will encourage frogs to help keep down the numbers of slugs and snails in the garden!
The garden is run on sustainable principles, so all garden waste material is composted and reused on site, stored in 9 wooden compost bins built by volunteers.
The raised beds and brick paths have been built using recycled materials. We also have water butts to collect as much rainwater as possible, and a custom-built system to harvest rainwater from the roofs of neighbouring buildings. As the site is very sunny and exposed, we have planted some trees to cast a bit of much-needed shade.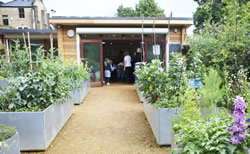 The community building, built from red cedar with an eco-friendly sedum roof and supplied by The Garden Escape, provides a focus for social and educational activities, and useful facilities such as a small office, kitchenette and disabled toilet. The building is available to hire, and we can also rent out a computer, projector and screen for an extra cost. For details please contact info@khwgarden.org.uk.
We can also make our clay oven available if you hire the building for an event, but for health and safety reasons the oven must be supervised by one of our trained operators and there will be an extra charge for this.